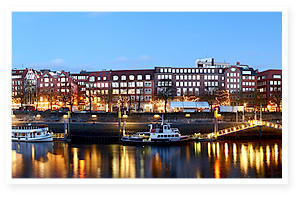 Staying in Bremen
A range of hotel rooms in various price categories have been pre-booked for the conference. We recommend to make your booking over the phone to ensure you get the conference-rate!
Steigenberger Hotel Bremen
Best Western Hotel Zur Post
Hotel Ibis Zentrum Bremen
Best Western Hotel Schaper Siedenburg
Category

Distance to station
Distance to venue
Distance to airport
Bookingcode
2 min walk
15 min tram
15 min tram
No code
Most of the hotels are situated in the very center of the city and the conference is easily accessible by tram line 6 (about 15 min ride). Free tram-tickets for all conference days will be provided for registered participants. More information will be soon available on the conference web site.